There are a few mysteries in life that will probably never be solved. Why are we here? How big is the universe? How come the alphabet was written in the order it was written? Why do people put salt on the rim of their cosmopolitan cocktail?
I guess it will never be solved, but what I can tell you is that it tastes a million times better without salt, and if it comes out of a box. Yes, you read right. I have had a couple of cocktails in my 26 years of life - a very little known fact was that I worked as a bar lady in a posh club post-varsity and had to have drink with the clients. Yes, had to. It's a cultural offense to deny free alcohol, especially from an already inebriated guy who has some cash to spend, ya know.
Getting back to my point, the Original Iced Cosmopolitan spirit cooler, which is a mix between cranberry, mandarin, lime juice and vodka is perfect! Did you know that the company uses 100% fruit juice for its blends? And you know what makes it even more delicious? Enjoying it in the bushveld, because it is absolutely portable and ready made! Take that bar people and Carrie Bradshaw! She wishes she was this cool.
We went on a game drive in the morning, Cosmo in tow and saw so many animals! We believe the scent of the Cosmo attracted them.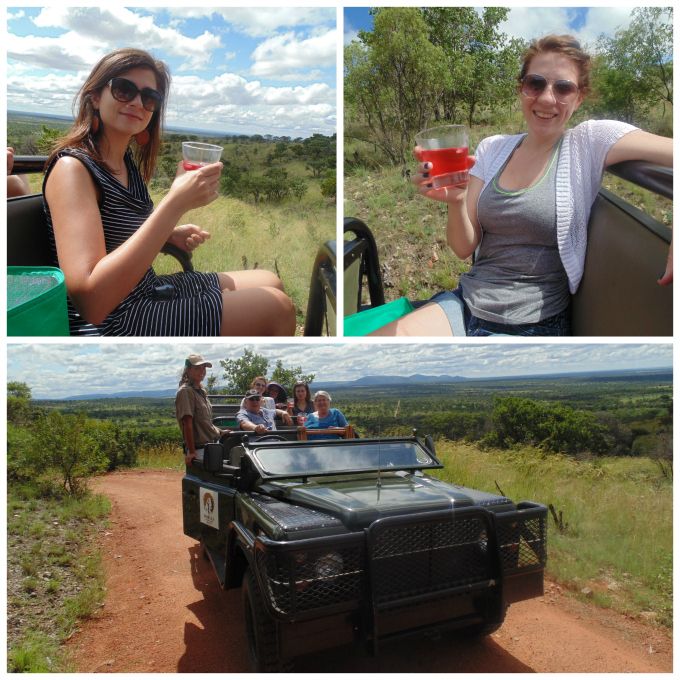 Now, what better way is there too cool down after searching for animals, than taking a plunge! With the mojito by our side, Idele and I hit the pool for a refreshing afternoon.
My friend, Idele, who joined me for the weekend couldn't get enough of the cosmo and I quote: "I'm usually a devoted Mojito fan, but I must say that the cosmo came out on top this time. With its fresh taste that is a fine combination of sweet and sour, it makes for an excellent game drive refreshment. Nevertheless, the Mojito still stood its ground, with a few added elmons and mint leaves, it is the perfect drink for an afternoon swimming pool expedition."
I couldn't have said it better myself. However, we didn't have all the sides for our mojitos. It was still refreshing and tasty!
Leave a comment below on what your favourite flavour Orignal Ice cocktail is!
And tweet the following: I want to win an Original Ice party pack with @original_iced and @waitingformeg : www.waitingformeg.blogspot.com
..........................................
The products in this post was sponsored by Orignal Iced
..........................................